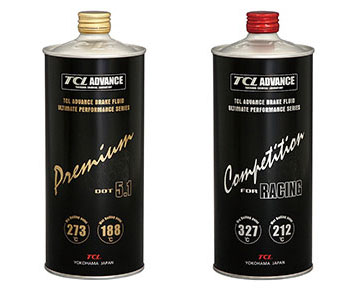 ADVANCE BRAKE FLUID
Since TANIGAWA YUKA KOGYO CO. LTD is the specialist of Brake Fluid and Coolant, many data and experience, technique and knowledge are condensed into the products. It is called "Japanese high efficiency product "TCL ADVANCE". We recommend it with confidence.
HGIH BOILING POINT & HIGH QUALITY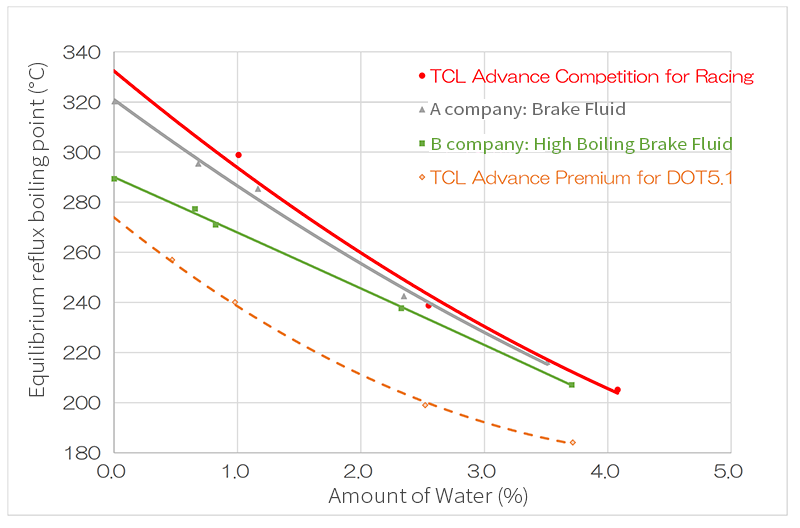 The graph mentioned above is an experimental comparison data of the boiling point for TCL ADVANCE Competition and the premium brake fluid made by the other companies.
It is clear at a glance that the boiling point of TCL ADVANCE Competition is higher in the same water levels. This data shows that TCL ADVANCE is hard to make vapor lock.TANIKAWA YUKA KOGYO CO. LTD is now supplying their products for the special vehicle of the Self-Defense Forces in Japan, and acquires a big share even in Russia, the severe cold area.
HIGH BOILING POINT of TCL ADVANCE pays attention even "PEDAL FEELING"
The high dry boiling point and the high wet boiling point are the feature of this product. After sever driving test, the Driver praised highly the high performance of this products.
COMPARISON OF THE DRY BOILING POINT WITH OTHER RACING BRAKE FLUID.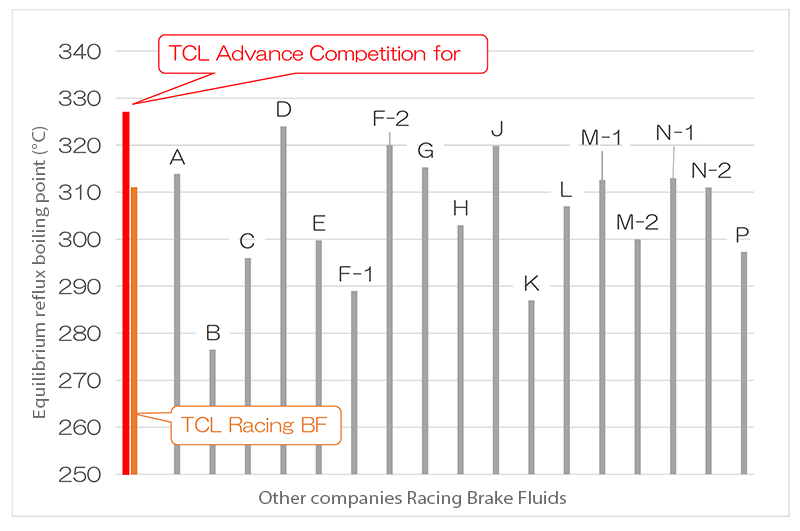 EVEN IF SUCK IN WATER; "HARD TO FALL OF THE BOILING POINT" IS PROOF OF OUR HIGH PERROMANCE.
The water has a big adverse effect on Brake Fluid performance. Generally, the boiling point falls when it absorbs moisture and, as a result, is at increased risk for causing vapor lock. but, in fact, if it does not absorb moisture, water just remains on the line of brakes, and they will carry a risk boiling at 100℃.
It is better that the absorbency should be rather high, and TCL ADVANCE is hard to fall of the boiling point even if suck in water.
Movie for Equilibrium reflux boiling point ( at speed 16 times )
CAUSE OF OVERHEATING & CHARACTERISTIC OF THE STABILITY IN HIGH TEMPERATURE
Braking with high speed makes Brake Disc Pad heat, and it also makes Brake Fluid heat. The heat affect coefficient of kinematic viscosity.
The following graph shows how to change Brake Fluid properties at 185 and 275 ℃ for two hours.
You can see the difference between TCL ADVANCE & Other Racing Brake Fluids.
COMPARISON with OTHERS for COEFICIENT of KINEMATIC VISOSITY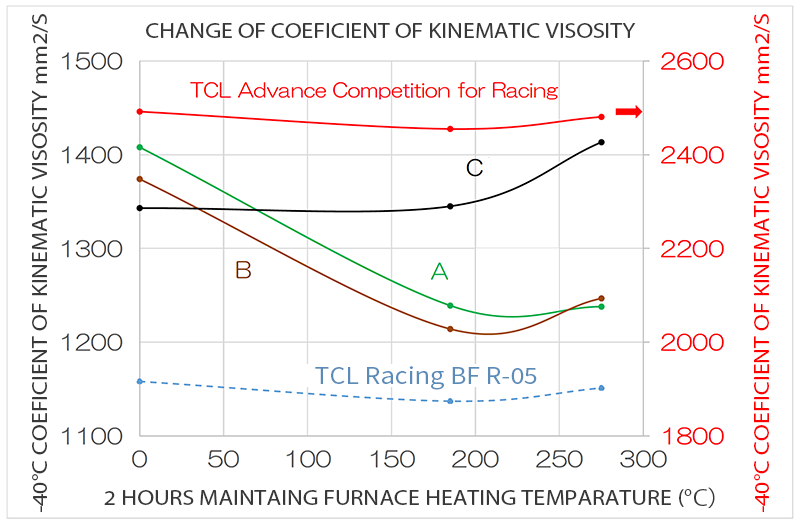 COMPARISON for BOILING POINT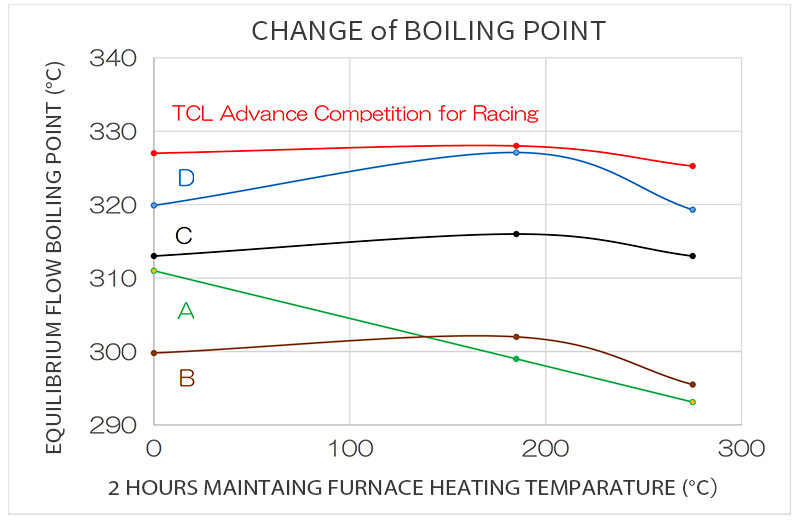 HIGH PERFORMANCE HIGH BOILING POINT & HIGH WET BOILING POINT
This graph shows the boiling point & wet boiling point for TCL ADVANCE and others. You can understand easily the difference between TCL ADVANCE and others performance.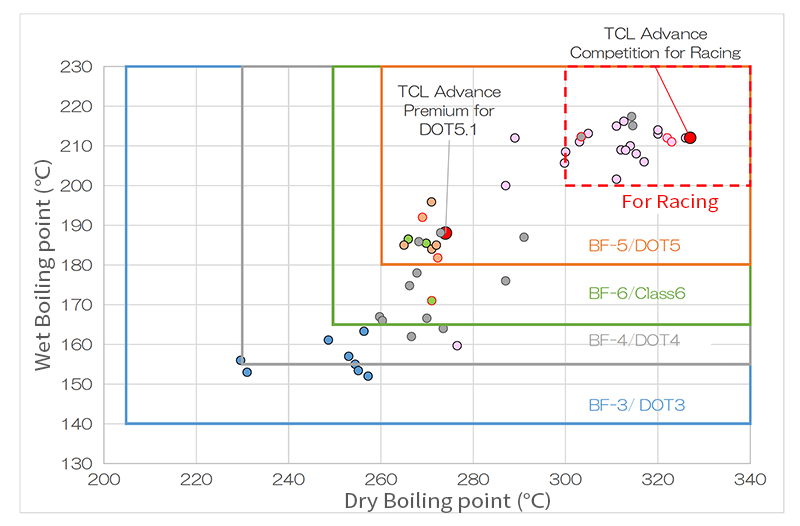 STABLE PROPERTIES & LOW EXPANSION
This graph shows the comparison between TCL ADVANCE (RED) and others (BLUE) for Boiling point and Expansion coefficient. TCL ADVANCE adopted the material which had low coefficient of expansion, and focusing on stability at the time of the breaking.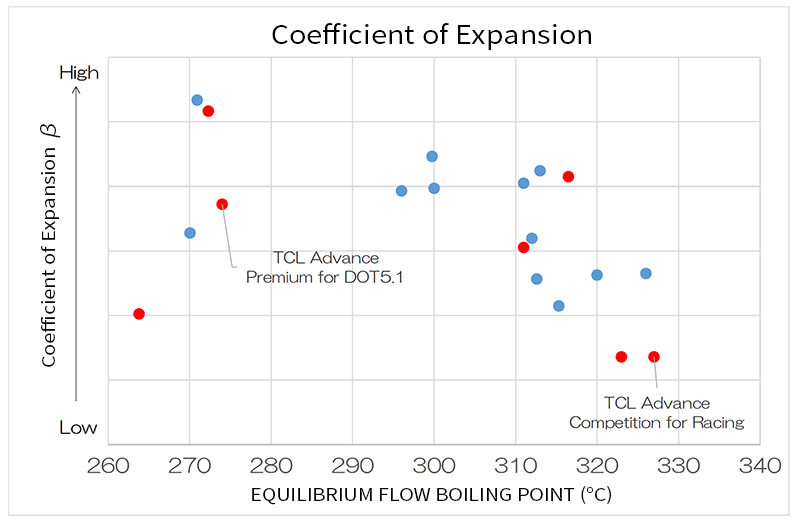 DOT-5.1 has low kinetic viscosity compared with DOT-3 & DOT-4, so that it corresponds for the Electronic control Brake system, like ABS (Anti-lock Brake System), ESP (Electronic Stability Control), EDB(Electronic Brake force Distribution).