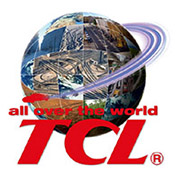 Philosophy
We believe that "people make the company". Our company are considered to be "place of human formation" of each and every person who gathered for the purpose of work.

We respect the individual, and we can trust each other. We are working to focus on that to address the efficient and rational management.
Company Information
Around the "TCL" brand, we develop and manufacture many auto chemical supplies as a pioneer of it. We supply brake fluid and engine anti-freeze coolant, chassis paint, window washer, chemical for rental lease, cleaning agents, glass abrasive, addition agent, etc.
We received Japanese Industrial Standards certification for brake fluid and Engine Anti-freeze coolant, and we also recieved ISO9001(2008) for them.
In our company, only regular employees performs working in the manufacturing site, and we manufacture products under strict quality control.
Message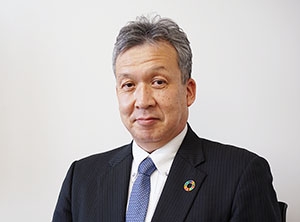 Technology development that cannot be imitated anywhere
May 1949, the company which derived from Tanikawa Yuka Research Institute that Rokuyoshi Tanikawa predecessor was founded has been working in the petrochemical industry consistently.
The motto of "research and development that anticipate the needs of the times",we are developing a product of its own inimitable in large companies.
After the war early days, It was sparked of technology development, it begins that it was awarded the bid for us to deliver the brake oil in troops.
The standard U.S. military at that time was severe beyond comparison with Japan standard. We could not find the consult product at all. We have developed a unique product to pass the standard U.S. military from such a situation. We believe the era of petroleum chemistry and always come from at this time, we were been striving to anticipate the technology.
Although standards have become stricter with the times in Japan, we have studied ahead has passed the standards of the United States as well as standard of Japan, and we has maintained its quality certified.
In the future, while aiming to further improve product performance, to increase the awareness of environmental protection as a company in the 21st century, we will fulfill the responsibilities of a recycling-oriented society.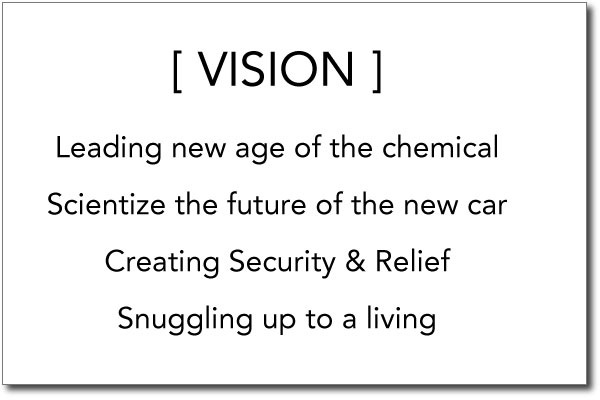 Information
Company name
TANIKAWAYUKA KOGYO CO.,LTD.
Head Office
13-11, Yako-1 chome, Tsurumi-ku, Yokohama-shi.Kanagawa-ken, Japan
ZIP code : 230-0001
MAP
TEL : (045)581-6635
FAX : (045)573-4347
Kanazawa factory
10-10, Fukuura-1 chome, Kanazawa-ku, Yokohama-shi Kanagawa-ken, Japan
ZIP code:236-0004
MAP
TEL : (045)784-1231
FAX : (045)784-1232
Company Foundation Date
April 1959
Capital
30 million Yen
Corporate officers
President Shinji Ogawa
Director Koichi Sato / Kyuichiro Oki / Kouji Ueda
Auditor Shuji Fujii
[Banks]
Kawasaki branch of Risona bank / Kawasaki branch of Mizuho Bank /
Kawasaki branch of Mitsubishi UFJ Bank
COMPANY HISTORY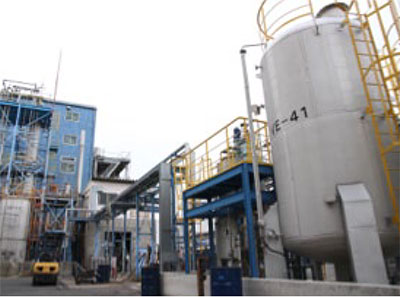 Company History
May 1949

Inaugurated as Tanikawa Yuka Research Institute. Started production of brake fluid and anti-freeze coolants.

Jun. 1957

Established Turumi factory, in Yako-cho, Tsurumi-ku, Yokohama-shi.

Apr. 1959

Founded Tanikawa Yuka Kogyo Co.,Ltd. Installed a distillation system. Established continuous operation system.

Mar. 1966

Received Japanese Industrial Standards certification for brake fluid, JIS K-2233, permit number 365394.

Mar. 1967

Licensed to register and sell brake fluid with permit number 1293 from the Measurement Standard Office of Ministry or Agriculture, Fisheries and Forestry, Sacramento City, California state, U.S..

Sept. 1969

Received Japanese Industrial Standards Certification for Engine Anti-freeze Coolants, JIS K-2234, permit number 369137.

Dec. 1973

Received Standard Certification from U.S. Dept. of Transportation and passed Certification Inspection Test administered by Foster D. Snell ,Inc., USA.

May 1982

Established Kanazawa factory at 10-10 Fukuura-1chome, Kanazawa-ku, Yokohama-shi. Installed a distillation system and equipment to expand production capacity.

Jul. 1989

Rebuilt the head office.

Apr. 1992

Received DOT3, DOT4, DOT5.1 and passed Certification Inspection Test administered by Case Consulting Laboratory Inc USA.

Feb. 1995

Expanded Tsurumi factory.

Dec. 2001

Kanazawa factory received the permit number 56-20-081343 of the Industrial Waste Teatment.

Oct. 2002

Received ISO 9001, permit number JCQA-1161.

Feb. 2006

Licensed to register and sell hazardous poisons with permit number 151010004.

Jul. 2008

Received Japanese Industrial Standards Certification for Brake Fluid, JIS K-2233, permit number CE0308011, and received for Engine Anti-freeze Coolants, JIS K-2234, permit number CE0308012.

Feb. 2014

Became a member of the SPK group, by SPK Corporation acquired all of the shares of our company.Yoichi Nakata assumed President and Shuji Fujii assumed Auditor.

Oct. 2018

Expanded the head office warehouse
Facilities

Distillation apparatus
By distillation apparatus of high performance, we are manufacturing a consistent system from raw materials to finished products. In recent years, we tend to purified material is commercialized widely in the field other than brake fluid and antifreeze liquid. These high quality materials that has been purified in this distillation column, has attracted the attention of the petrochemical industry.

Production line
Fabrication facilities that have been constantly evolving over the 60-odd years the company since its inception, both shows the high productivity in small number of people. We are doing the packing work and formulated in a line of antifreeze and brake fluid. We are producing 650t per month or more. Our factory has been received several Japanese Industrial Standards certification.

Research and Development
To establish a consistent line to product development from raw material purification, we are working with an emphasis on research and development. As a result, we came to be a high reputation in the field of automotive chemical products. In addition to the technical capabilities as a base, we make full use of the know-how of many, we aim to develop products that anticipate the times.

Distribution
We are thoroughly integrated management by computer, orders, production, and shipping. And we offer superior products with quick, accurate response to the customer.
JIS K2233、K2234 Approval Factory
JIS K2233、K2234
Japanese Industrial Standards (JIS) is a national standards based on the Industrial Standardization Law for the purpose of promotion of industrial standardization of Japan.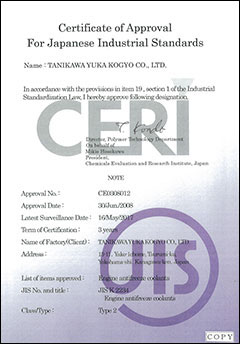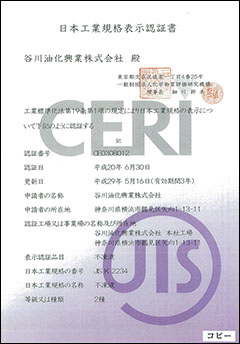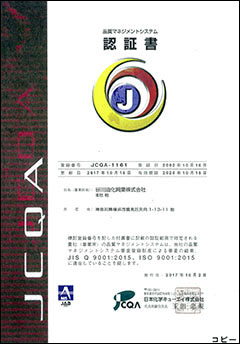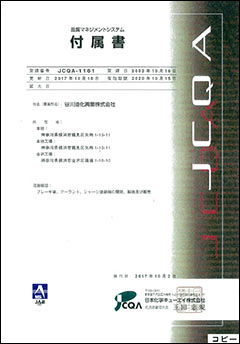 ISO9001(2015) is received
Brake Fluid, Long Life Coolnat, Coating Material for Chassis
ISO(International Organization for Standardization)is an international standard-setting body. ISO 9001 is world-wide quality management systems standards which is defined by ISO. It is about how to produce the products and services with a quality demanded by customers and society.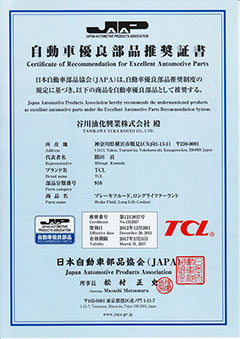 JAPA sub member
Japan Automotive Products Association(JAPA) is an association consists of trading companies which sell automotive spare parts all over Japan and world (official members) and automotive parts manufacturers (sub members).